What Is Ultrasonic DPF Cleaning?
What Is Ultrasonic Cleaning?
A. In a process termed "cavitation", micron-size bubbles form and grow due to alternating positive and negative pressure waves in a solution. The bubbles subjected to these alternating pressure waves continue to grow until they reach resonant size. Just prior to the bubble implosion, there is a tremendous amount of energy stored inside the bubble itself.
Temperature inside a cavitating bubble can be extremely high, with pressures up to 500 atm. The implosion event, when it occurs near a hard surface, changes the bubble into a suction jet about one-tenth the bubble size, which travels at speeds up to 400 km/hr away from the hard surface. With the combination of pressure, temperature, and velocity, the jet frees contaminants from their bonds with the substrate. Because of the inherently small size of the jet and the relatively large energy, ultrasonic cleaning has the ability to reach into small crevices and remove entrapped soils very effectively.
For a Wikipedia guide to ultrasonic cleaning click here.
This makes Ultrasonic Cleaning the perfect system for cleaning Diesel Particulate Filters.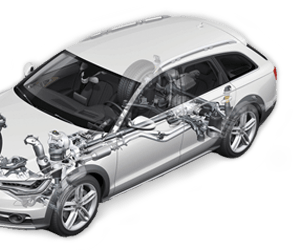 Our DPF Cleaning Process
We run a step by step process on every DPF we clean. This includes:


Internal Inspection of the DPF Filter with an endoscope
Pre-clean Weigh
Flow Test
Ultrasonic Clean
Filter Drying Process
Post-clean Weigh
Post-clean Flow Test
Filter return with a full report
What we don't do is "DPF Removal" or what's commonly known as "DPF Delete". To find out why, click on the button below.